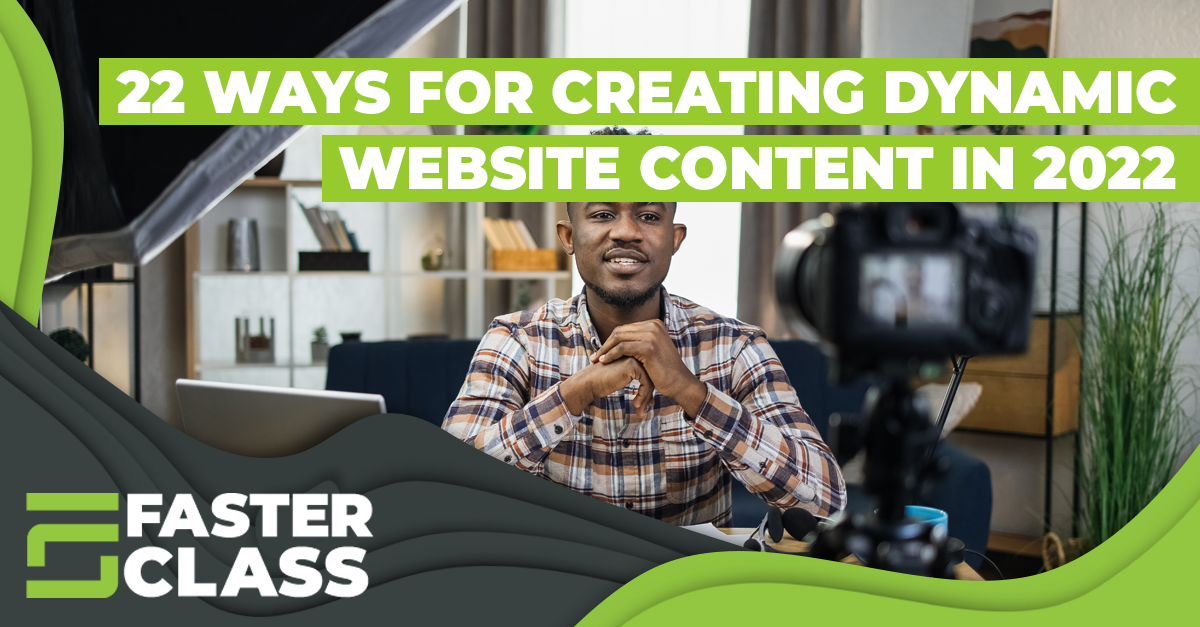 Dynamic content is critical to your website. It generates revenue, greatly improves conversion, and overall ensures your site does what you intend it to do. Dynamics promote engagement that attracts, enhances, and makes a difference.
What is Dynamic Content?
Dynamic content entails using analytics to manage digital content. It utilizes all elements of the internet:
Descriptions

Announcements

Blogs

Images

Text

Animation

Audio

Video

Email
How to Use Dynamic Content
It would be easy to interpret dynamics as changing content. That would be a mistake. Dynamic content shifts and adapts to users. It's generated on-demand when users make a request.
Let's take for example how dynamics affect the user/website relationship. A user requests a landing page or you want to send an email. The user would receive info relevant to that user based on factors like:
Identity

Prior interaction

Location

Weather conditions

Number of page visitors
Dynamic content culls unique information from databases and auto-inserts content specific to your users.
Static Content
The internet is awash in static content. For the most part, static content is exactly what it sounds like. Dull, generic material that treats everyone the same. Imagine all your emails opening with "Dear Customer."
Static content gets applied because it's easier than dynamic content. In other cases, the static way is the result of content creators not having a good handle on website performance. These marketing teams approach selling sneakers in California the same as selling to targets in Maryland, Kentucky, or Denver.
It's not the same.
Benefits of Dynamics
Yes, dynamic content requires more work. It might even be difficult, but the ROI will be invaluable. Dynamic content:
Creates a greater, user-friendly UX

Promotes the KPIs you need (bounce rates, conversions, return visits, etc.)

Seamlessly produces page layouts

Increases website relevancy.

Implements personalized experiences.
Ways to Implement Dynamic Content
Here are smart and proven ways to use dynamic content.
Gather user info using sign-ups, registrations, newsletters, and purchases. Store them on background databases for compiling dynamic content later.

Use tracking methods like cookies to get insight on your visitors like:

Getting age, profession, on-site positioning, and other relevant data

How often users visit your site

What and how many pages they visit

What specific content attracts users

What services or products were previously viewed or purchased

What points users decide what they want to see

How are users interacting with the site

Which browser users deploy to search and access websites

Emails and newsletters are the most common forms for presenting dynamic content. Form fields make for excellent customization. Plugins can repurpose and update content as needed.

Landing pages can display unique info or items based on the user. Dynamic content will be a doorway to information about your website's potential to provide a service.

Mobility is a critical aspect of your internet stance. If your content isn't displayed properly regardless of screen size or device, you're giving your users a solid reason to go somewhere else.

Your ecommerce pages should cross-sell and relate items to users. Bounce special offers, discounts, sales, coupons, and other incentives based on user behavior.

Strategically placed ads will answer unique questions that users have yet to ask. Dynamics include displaying content based on interests and searches, promoting interaction, and click-throughs.

Use articles and blogs to provide important information via dynamic content. That means tailoring and streamlining messages to customers and clients.

Recommendation engines play a big part for giants like Netflix and Amazon. They customize user journeys through discovery to checkout with relevant stages of content. And they're not limited to ecommerce. Personalization via recommendation is usable on content portals, travel sites, dating platforms, and more.

Some plugins create dynamic content and don't require a background in coding. They let you create data structures, fields, taxonomies, and post types. There's Toolset and Divi just to name two.

Dynamic CTAs increase the chances of conversion. They address a question directly and guide users to take action. It's the crux of engagement. The dynamic CTA encourages action based on user behavior and life cycles. The resource applies unique promotions to different personas. It offers answers based on visited pages.

Dynamic content is the only way to go for multilingual websites. You want to translate each piece of information only once. Build dynamically and templates, archives, and views will get loaded automatically for different languages.

Develop content that generates dynamically based on changing information. Think of a site that displays the weather, air quality, or stock market info in real-time.

Algorithms let you simplify hardwired coding to produce data and increase user interaction. Use a template that displays trending information. Base the solution on the number of clicks in a given period or shifts in the market.

When it comes to dynamics, artificial intelligence is in a class by itself. The tech changes content based on user behavior and data.

You can create custom content management systems to develop and maintain your dynamics. There are plenty of platforms to use, such as WordPress and MySQL.

Use models like Facebook and Twitter, Amazon, and YouTube. Each platform provides dynamic content aimed at user-specific preferences, views, and interactions. Social media in general is a powerful example of the best ways to use dynamic content.

Getting customers to come back is the most important segment of online success. Dynamic content is useful for updating users about new products or services that may be of interest. Create unique rewards for returning and for inviting others to visit the site.

Strategically place widgets to present offers in real-time. When the user clicks, the return is an offering related directly to the user.

Invest in resources that categorize and filter products and services. Demonstrate to users you can find exactly what they need quickly.

Develop categories that optimize that help make decisions. We're talking "Best Selling" and "Most Wanted."

As much as possible, personalize your images. Thumbnails generate interest, which can be hard to do if there's nothing unique about them.
If you'd like to know more about how to make the best use of dynamic content, reach out to Faster Solutions. Our team  is ready to break it down for you.