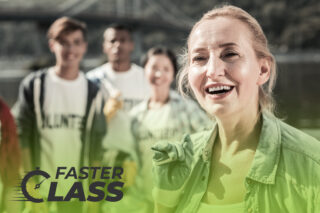 Earlier this month, Google introduced a new way for local businesses to advertise on the Google Maps app for the iPhone, iPad and Android.
Prior to these new local ads, business listings would appear in a box at the bottom of the search results screen, and users could flip
through them one by one. Now Google is allowing advertisers to pay to be the first thing a user sees when they search for a general business type, such as a convenience store or restaurant. Google Map ads are purchased through the same Google AdWords auction as other traditional Google ads, so businesses will have to outbid each other to get to the top of search results.
Google is calling these new ads "relevant ads," and they will appear at the bottom of the screen after a user performs a search. They are clearly marked with a small "Ad" label, and the icon on the map for the particular business being advertised will be purple instead of the standard red. These new ads include a title, ad text and a link to get directions to the business being advertised. Users can then tap or swipe upward on the ad to expand it and see more information, including the business' address, phone number, photos, reviews and directions. This is a new click type known as "Get location details" and results in a standard cost per click charge.
Besides the initial "Get location details" click, advertisers will also be charged on a cost per click basis when a user gets directions, calls the business or clicks on the link to the business' website. Advertisers will only be charged for a maximum of two clicks per impression.
There are also some free actions a user can take, including saving business information for later, sharing a business listing with a friend and starting navigation to the business being advertised.
Google is offering analytical data to advertisers on both the free clicks and the paid clicks. If you would like to start using this new type of advertisement, you need to add local extensions to your ad campaigns. Local extensions allow you to attach your business' address or addresses to your ads. Once the local extensions are set up, Google will match your business locations to a user's location and show the address that is most relevant to them. These ads will also have to be configured for mobile devices and on Google search partners, which can be done in the AdWords settings.
Google Map ads give businesses the ability to put themselves in front of people who are looking for local places in specific locations, usually at the exact time they would like to visit that place. Reaching potential customers in the moment they are looking for something is a huge advantage for businesses over advertising broadly on the Internet.
If you would like to give these new Google Map ads a try with your own business, Faster Solutions would be happy help you set up an ad campaign and implement your ads.